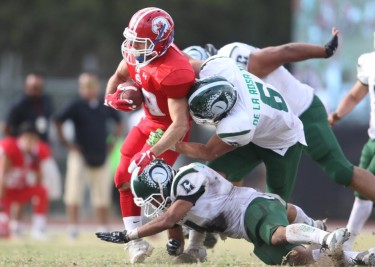 Eagles vs Raptors | lfa,mx
EAGLES vs RAPTORS @ Palillo Stadium, México City | Sunday, 2nd April 2017 | 15:00 p.m.
Expectations for this match grow stronger every second that we get closer to the kickoff. It is the most attractive game of Week 6 and we close the activities with this tasty dish. The Eagles are trying to catch the Mayas in the division, in order to not be left behind in the playoff race. The Raptors hold a tight grip of the first place of their group, and are willing to put everything at stake so they can stay at the same position when Sunday gets to an end.
Here is what you need to know for the coming game:
– The Raptors have to be prepared for either Raúl Mateos, N. 16, or Joaquín Juárez, N. 18, to start at the Eagles' QB position. In their last game, the Eagles passing game had better results, when Juarez was at the controls, still the game-plan of Head Coach José Campuzano, will seek to exploit the main weaknesses of the Raptors defense. The Eagles will also need to continue being creative with their running schemes, involving Mateos for the option plays, but not getting the burden in his sole shoulders.
– On the other hand, the Raptors offense need to capitalize on key opportunities, and play situational football when is required. When this offense begins to click, and their players are in the same page, the Raptors could be an extremely dangerous team and an high-scoring machine. Look forward to the exciting passing game of Márquez-Barraza-Guadarrama-García, which is going to give the Eagles defense everything they need to work the entire game.
-The Eagles also have their great passing game on their own, with Villalobos and Owens at the helm, but they need to began working early if they want to catch up with the aggressive Raps defense. It surely has been a tough preparation week for both teams, as they entered Week 6 with many things to work on, and many plays that needed to be refined and fixed. 
– Both teams are facing one of the toughest tests in their season, as we get close to the end of the tournament. It is going to be a great battle field that levels up this rising league in play quality, and pre-game excitement.
The best comes at the end.